After the new Astra hatchback that premiered earlier this year, Opel now also introduces the all-new Astra in the station wagon edition. Here is a new Opel Astra Sports Tourer 2022. 
2022 Opel Astra Sports Tourer specs
So, compared to the Astra hatchback, this new 2022 Astra Sports Tourer has a longer wheelbase (273 cm), and as for other dimensions, they look like this: length 464 cm, width 186 cm and height 148 cm.
Opel states that the volume of the trunk ranges from 608 to 1634 liters and 548 to 1574 liters in the hybrid version.
The following versions of the new Astra Sports Tourer are planned for market launch: Plug-in Hybrid with combined 180HP and 360 Nm (later comes a more powerful hybrid with 225HP), then two 1.2-liter three-cylinder turbo gasolines with 110HP and 130HP, as well as 1, 5 liter four-cylinder turbo diesel with 130HP.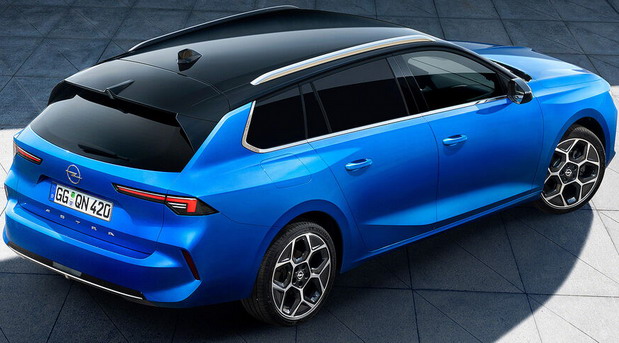 It should be noted that the Plug-in Hybrid version with 180HP has 12.4 kWh batteries and that the car can go up to 60 km in electric mode.
2022 Opel Astra Sports Tourer cost
Manual and automatic transmissions will be on offer, while the prices of the new Astra Sports Tourer have not yet been announced but expected price is around  €25,000 or around $28,000 (unofficially, the station wagon in Germany is expected to be about 2,000 euros more expensive than the Astra hatchback).
2022 Opel Astra Sports Tourer release date
The new Astra Sports Tourer station wagon will go on sale in 2022.
source: motor1
All-New 2022 Opel Astra Sports Tourer | Driving, Exterior, Interior & Boot